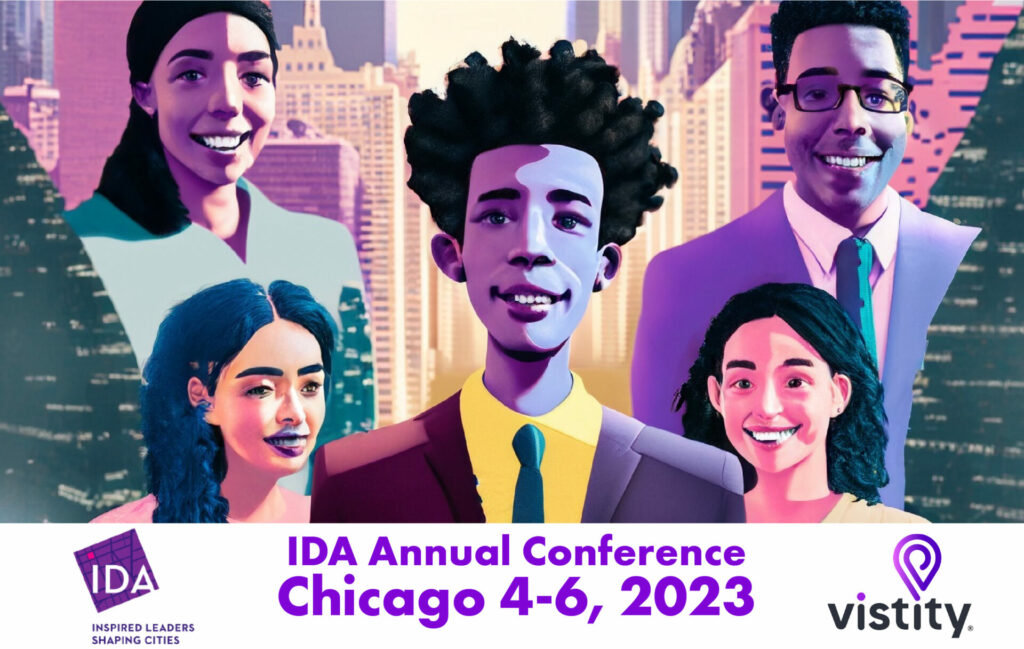 Join us at Booth 119 in Chicago's Palmer Hotel this October for the 2023 International Downtowns Association Annual Conference, as we celebrate our journey from an award-winning launch to industry rising leaders.
Vistity@IDA: A Journey of Success and Innovation
It feels like yesterday when we introduced the world to Vistity at the 2021 IDA Conference in Tampa. Not only did we launch, but we were also honored with the Pinnacle Award for Economic Development in collaboration with the Los Angeles Downtown Center BID (DCBID). Those moments laid the foundation for a symbiotic relationship with Business Improvement Districts, the heart and soul of IDA's membership.
As we prepare to attend the 2023 IDA Annual Conference, held from October 4-6 at the iconic Palmer Hotel in Chicago, it's a chance to reflect on our journey and our commitment to the IDA community. We've come a long way from that exciting debut in Tampa. Over the past two years, our platform has evolved, expanded, and is now proudly supporting multiple cities in their economic development endeavors.
For those attending this year's conference, we invite you to experience Vistity's latest advancements firsthand. Our founders will be present at Booth 119, eager to discuss and demonstrate the innovations that have positioned us at the forefront of digital immersive experiences: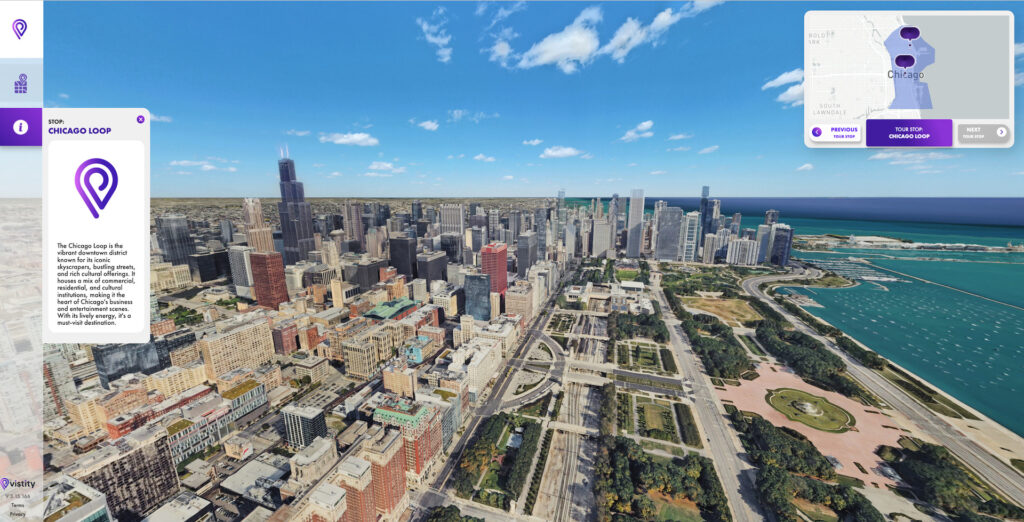 Vistity AirView: Redefining aerial imagery by combining satellite, topographic data, and game engine technology. Now, capture panoramic vistas without the constraints of drones.
VistityAI: Our groundbreaking tool that offers pre-scripted prompts, streamlining the process of generating descriptive text about venues, ensuring your presentations are both informative and engaging.
Placer.ai Widget: Dive deep into foot traffic data for all locations in Vistity, offering an empirical edge to your economic development strategies.
GeoCentric Citylight: Native integration into business directory and event listings, extending the capabilities of both Vistity and Geocentric's leading website platform
Grab a Free Bandana
And because we appreciate the vibrant community the IDA represents, attendees visiting our booth will receive a special gift: a unique bandana featuring original artwork that celebrates various Vistity destinations across the USA. It's not just a token, but a testament to our journey together.
When it comes to immersive views of destinations, downtowns, and real estate portfolios, platforms like Vistity have shown how drone images can be utilized effectively. Vistity's expertise in creating immersive experiences is more than just a service; it's a commitment to innovation and excellence in the field.
With a keen understanding of the technology and the needs of commercial real estate professionals, Vistity has mastered the art of using drone images to bring locations to life in an engaging and visually stunning manner.
Immersive Exploration Advantages
At Vistity, we understand the nuances, challenges, and aspirations of Business Improvement Districts. It's why we continuously innovate, ensuring our platform serves as an effective tool in driving urban economic development. The upcoming IDA Conference is more than just an event for us – it's a homecoming, a reunion, and most importantly, an opportunity to further our collective mission.
We look forward to seeing familiar faces, forging new partnerships, and sharing in the excitement and vision of the future. See you in Chicago!